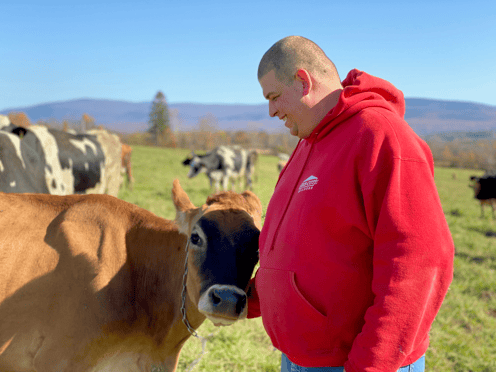 Me and my Head Farmer Matt!
Hello. Is this thing on? Hi! I'm Ali, and this is my first blog post. It's all about my owner, Eric! Let's see what he had to say.
Q. Moo.
A. Hi to you too. My name is Eric Zeihm, and I'm 42. My wife is Jamie, and I have two boys, Cole, age 13, and Case, age 9.

Q. Moo.
A. Well, I am a Sagittarius.


Q. Moo!
A. I have been farming ever since I could walk!


Q. Moo!!
A. I suppose that's true, good for you.


Q. Moo?
A. Officially, I started in 1999 after I graduated college.


Q. Moo. Moo?
A. I chose organic farming because I really enjoy seeing our cows in an organic setting, out grazing in the pasture. I want to be part of the movement to help our environment and ecosystem heal and prosper!


Q. Moo, moo. Moo?
A. My favorite thing about farming is that I get to be so many different things every different day. For example, I get to play a veterinarian, carpenter, electrician, environmentalist, agronomist, economist, and even a psychologist! I love waking up to new challenges!


Q. Moo.
A. Moo!