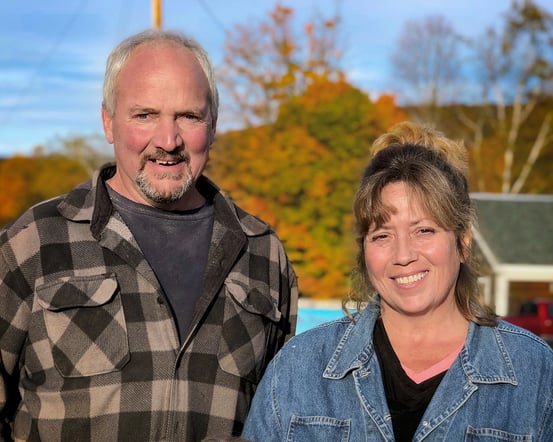 Moo! It's time for my first blog post for Have a Cow. I want you to meet my farmers! I interviewed them the other day, and it went something like this.
Q. Moo?
A. I'm Rhonda Goodrich and this is my husband Myles. Myles was born and raised on the farm. He's the seventh-generation descendant of Amos Whittlesy Abbott (1790-1875) and Betsey (Knight) Abbott (1794-1874) who lived on the original farm. We were married on the farm in a field just above the barn.
Q. Moo. Moo?
A. One of our favorite things about the farm is working with our grandchildren, Addie (9 years), Ryan (7 years) and Emma (4 years) who are the 9th generation to live and work on the dairy. This morning they helped us move heifers from the summer pasture to pasture closer to the barn. We called it a "cattle-drive." These young farmers understand how cows move and knew how to move with them. We had one heifer named Feather who decided she wanted to explore on her own. Addie maneuvered the four-wheeler in front of her and calmly coaxed her back with the group, which is not as easy as it sounds. Ryan was quick on his feet and helped us keep the other heifers from following Feather. Emma knew not to get excited as it would scare them as they trotted down the road to their new pasture. After our "cattle-drive," we had a hearty breakfast together and lots of laughs.
Q. Moo! Moo.
A. We made the decision to transition the herd and land to organic in 2015, and we earned our organic certification in 2018. Transitioning the cows and land to organic is an idea that my husband Myles was interested in when he was in partnership with his parents. The conventional milk market is a roller coaster. We also do not want to become a large factory farm. We grew 53 acres of corn and were concerned about the herbicides going into the ground. As I said earlier our grandchildren are an important part of our life on the farm. It is important to us that we leave the cows and land healthier for them. We believe organic is healthier.
Q. Moo.
A. Well, thank you, too!